Microwave Kuih Talam?
This is another classic Nyonya dessert. Kuih is a common local Malaysian word for all Nyonya and Malay desserts. This popular
kuih
not only is one of Malaysian all-time breakfast favorite but also serves as great party snacks. This steamed coconut flavor rich dessert comes with top white layer made from coconut milk and rice flour and the bottom green layer is made from rice and mung bean flour with natural green coloring extract from
pandan
leaves a.k.a screw pine leaves.
The instruction in the original recipe suggested cooking time of 1 hour, requiring slow simmering or double boiling in the kuih thickening process before steaming. I reckoned this traditional way of thickening process was quite time consuming. It struck my mind whether I could adopt the same microwave method that I applied in coconut egg jam,
Kaya making
to speed up the process.
I gave it a try with the microwave method on my first tray. My first attempt was not as impressive as I was trying to find out the right time required to microwave-cook the batter to the right concentration before placing it into steaming tray for steaming. I over heated the green layer resulting in the green layer batter was over thickened and lumpy. You can tell from this photo.
However, since I had another half tin of coconut cream to experiment further, I proceeded with my second attempt. This time I knew that I shouldn't heat the green batter for more than 4 minutes in total and each session no more than 1 minute. It should be stirred constantly after every time it is taken out from the microwave. As for the white coconut cream batter, it only took about 2 minutes to thicken. I repeat the heating process more often with last minute at 30 seconds interval. The result, as can be seen from the photo, is a nicer smoother batter for both the green and white layers.
J
Kuih Talam (Coconut Tray Cake) 娘惹香草糕- Featured in Group Recipes 9/12/2010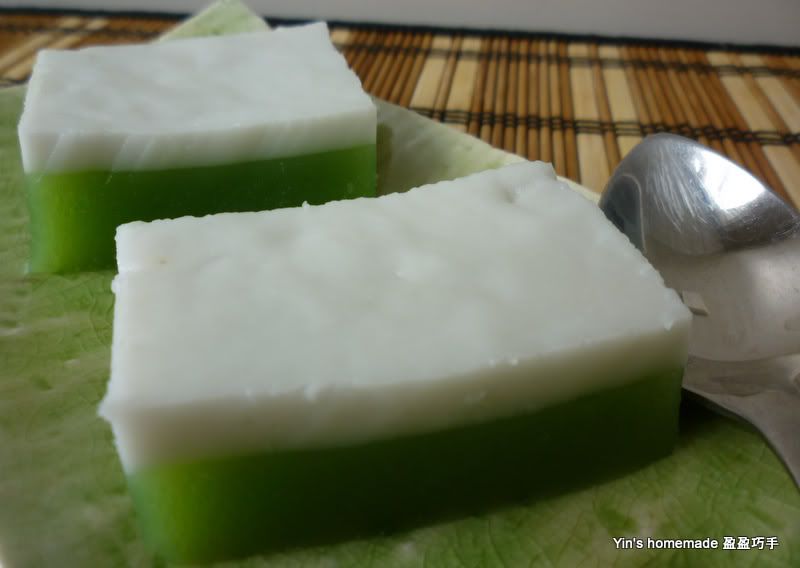 I didn't expect my little picky boy appreciate this classic kuih so much.